The Nils Johan Prima silverplate mid-century matched scalloped edge sugar, creamer, and tray is a fine vintage set in excellent condition. It features a beautiful scalloped edge design and is made of gleaming Swedish traditional mid-century silver. The set is complete, with each piece numbered and matching perfectly.
The tray measures 9 1/2″ long and 5″ wide, making it the perfect size for serving. The sugar and creamer are 5 1/8″ high, and all three pieces have nice detailing in their handles and feet, adding to their elegance.
Despite its age, this set is in fine vintage condition with no dents or defects. The tray does have some light scratches on the bottom, but they are not very noticeable. The photo of the interior may appear to show discoloring, but it's actually just a reflection of the photographer's clothing. The set is a collectors' item and a rare find.
The Nils Johan silverware dates back to the 1880s, originally known as Nilsson och Johansson. This particular set, with its scalloped edge design and gleaming silver, is a true reflection of the craftsmanship and elegance of mid-century Swedish silverware. It is a rare and elegant trio that would make a stunning addition to any collection or a perfect centerpiece for special occasions.
44 reviews for
Nils Johan Prima silverplate mid-century matched scalloped edge sugar, creamer, tray 9 1/2″ long, fine vintage condition, numbered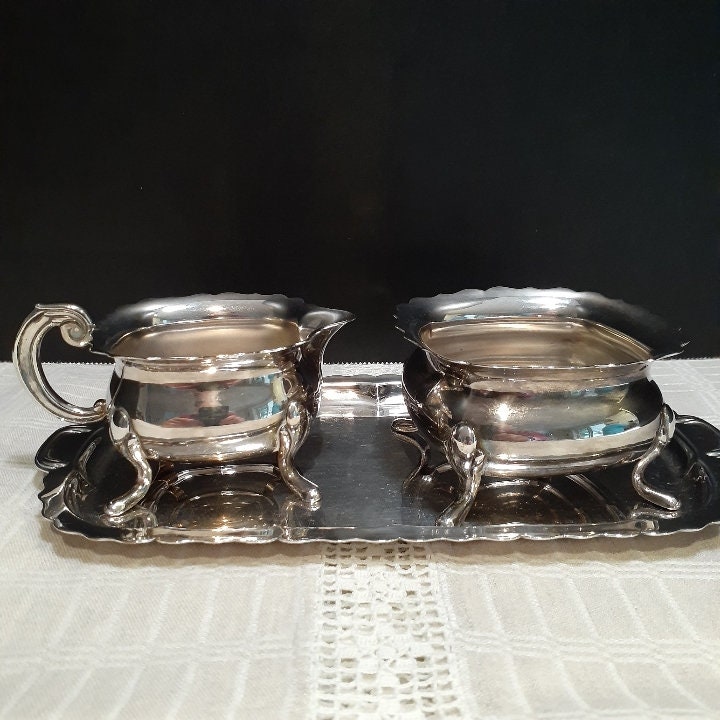 Nils Johan Prima silverplate mid-century matched scalloped edge sugar, creamer, tray 9 1/2″ long, fine vintage condition, numbered