The Crispi Breakfast Bar Stool: A Perfect Blend of Style and Comfort
Introducing the Crispi Breakfast Bar Stool, a stunning addition to any home or workplace. This height adjustable bar stool not only offers a stylish and sleek design, but also provides ultimate comfort for those long breakfast sessions or working hours.
Comfortable and Stylish Design
The Crispi bar stool is meticulously crafted with a high back and well-padded seat, ensuring maximum comfort even during extended periods of sitting. The foam padding adds an extra layer of plushness, making this bar stool a luxurious seating option for any occasion.
Elevate your Décor with a Silver Trim
What sets the Crispi apart from other bar stools is the stylish silver trim that adorns the edges of the seat. This eye-catching detail adds a touch of elegance and sophistication to the overall design, making it a standout piece in any room.
Convenience at Its Best
The Crispi bar stool features a gas lift mechanism, allowing you to easily adjust the height to your desired level. Whether you prefer a higher seat or a lower one, this height adjustability feature ensures a custom fit for everyone. Additionally, the 360-degree swivel allows you to effortlessly turn and interact with your surroundings without having to constantly get up from your seat.
Built to Last
With a sturdy construction and a base diameter of 41cm, the Crispi bar stool offers excellent stability and durability. The wide footrest provides additional support, perfect for those who like to rest their feet while sitting. The included floor protector ensures that your floors remain scratch-free, making this bar stool ideal for both home and workplace use.
Dimensions
Seat Height: 59-81cm (23.2 – 31.9 inches)
Overall Height: 93-115cm (36.6 – 45.3 inches)
External Seat Width: 41cm (16.1 inches)
Backrest Height: 37cm (14.6 inches)
Seat Depth: 35cm (13.8 inches)
Overall Stool Depth: 44cm (17.3 inches)
Width Of Footrest: 30cm (11.8 inches)
Base Diameter: 41cm (16.1 inches)
Add a touch of elegance and comfort to your space with the Crispi Breakfast Bar Stool. Perfect for any modern setting, this bar stool is a true combination of style and functionality. Upgrade your seating experience today!
[Include any additional information, warranties, or contact details if necessary]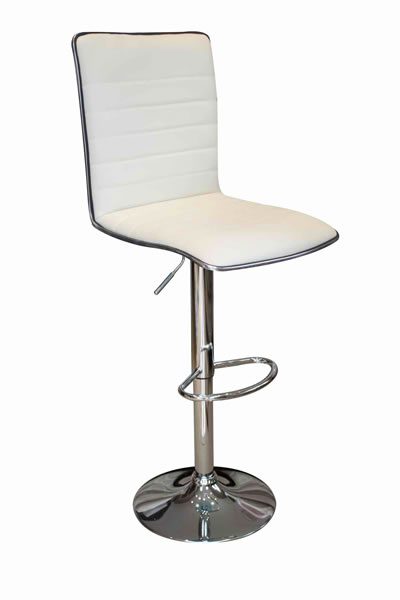 Crispi Breakfast Bar Stool Cream Silver Trim Height Adjustable. – NetFurniture