Waterproofing Crispi Cream for Footwear
Waterproofing is an essential step in protecting and prolonging the life of your leather and leather footwear. Introducing Crispi Cream, a revolutionary waterproofing cream specially formulated to provide optimal protection for your favorite pairs of shoes or boots. With its unique blend of waxes, oils, and fats, this waterproofing cream creates a protective barrier that repels water, dirt, and stains, keeping your footwear looking and performing its best.
Key Features and Benefits:
High-quality ingredients: Crispi Cream is made from a carefully selected mixture of waxes, oils, and fats, ensuring superior waterproofing performance.
Long-lasting protection: The formulation creates a durable barrier that keeps water out, preventing damage caused by moisture and prolonging the lifespan of your leather footwear.
Versatile application: Suitable for all types of leather and leather footwear, including shoes, boots, and even leather accessories.
Easy to use: The convenient 75 ml size allows for easy application, and the cream spreads smoothly and evenly, ensuring thorough coverage on every surface.
Preserves natural beauty: Unlike other waterproofing products, Crispi Cream does not alter the appearance or texture of your leather. It preserves the natural beauty and suppleness, allowing your footwear to look as good as new.
How to use Crispi Cream:
1. Ensure the footwear is clean and dry before applying Crispi Cream.
2. Apply a small amount of cream to a clean cloth or sponge and spread it evenly over the surface of the leather.
3. Pay close attention to seams and areas prone to water exposure.
4. Allow the cream to penetrate the leather for a few minutes.
5. Buff the excess cream with a clean cloth, creating a smooth and polished finish.
6. Let the footwear dry naturally for several hours before wearing or storing.
7. Reapply the cream periodically or as needed for continuous waterproofing protection.
With Crispi Cream, you can confidently take on rainy days, muddy terrains, or any outdoor adventure without worrying about your footwear getting soaked. Trust in the waterproofing power of Crispi Cream and keep your leather and leather footwear in their best condition for years to come.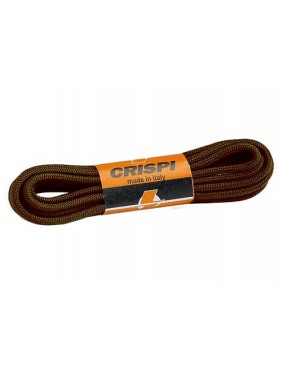 WATERPROOFING CRISPI CREAM FOR FOOTWEAR 75 ML [AM4301]