The MATCH POINTER Tennis Scoreboard is a high-quality scoreboard designed specifically for use in tennis tournaments. Available in four sizes – small, medium, large, and XL – this scoreboard offers options to suit any tennis court or tournament setting.
Made from UV-resistant uPVC material, the Match Pointer scoreboards are built to last and retain their brilliant color over time. Unlike other flip board-style scoreboards that can be rendered useless in windy conditions, the score discs on the Match Pointer change easily and are unaffected by wind.
The double-sided scoreboard is constructed from strong UV-resistant uPVC material, ensuring durability and longevity. The large print score dials provide easy visibility for players and spectators alike. Additionally, the Match Pointer comes with a strong anti-rust hook that allows for easy hanging from court fences.
Personalization is also possible with the Match Pointer tennis scoreboard. The header reads HOME AWAY and can be covered with name plates, which are not included with the product. This feature allows for customization before each match, making it perfect for club tournaments.
The Match Pointer tennis scoreboard is available in four sizes, each with a corresponding price tag. The sizes range from small, which is perfect for private courts and learning tools for kids, to XL, a popular choice for large club tournaments throughout Europe. The large and XL sizes also come with the option of a lightweight aluminum stand.
While the standard Match Pointer should be stored indoors when not in use to preserve the silicon coating on the score discs, there is a maintenance-free Premium Match Pointer available for those who wish to leave their scoreboards out all year round. For further maintenance advice, customers can visit the Match Pointer website.
Customers can take advantage of a 10% discount by using the discount code 3xMP at checkout when purchasing three or more Match Pointer scoreboards. With its durability, easy portability, and customizable features, the MATCH POINTER Tennis Scoreboard is the ideal companion for tennis tournaments of all sizes.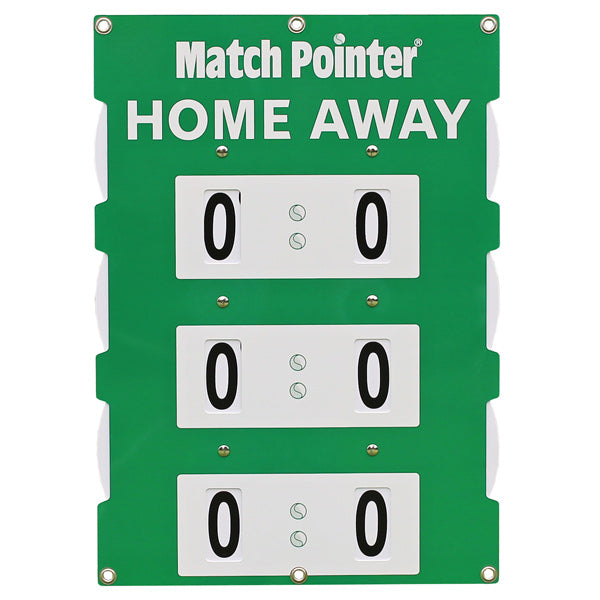 MATCH POINTER Tennis Scoreboard