Introducing the Smartwhip Silver Full Set
Are you tired of the limitations of traditional cream dispensers? Do you want to take your culinary creations to the next level? Look no further – the Smartwhip Silver Full Set is here to revolutionize your kitchen experience.
Unleash Your Creativity
With the Smartwhip Silver Full Set, you can now transform any ordinary dish into a work of art. This set includes a high-quality N2O cylinder, boasting an impressive 640g of pure food-grade nitrous oxide. This means you can charge one siphon after the other in rapid succession, allowing you to work efficiently and create beautiful culinary masterpieces.
Improved Workflow Efficiency
Say goodbye to the hassle of constantly refilling your cream dispenser. The Smartwhip Silver Full Set is designed to improve workflow efficiency, saving you time and effort in the kitchen. With 615 grams of nitrous oxide in each cylinder, you can focus on your creations without the interruption of running out of gas.
Easy to Use and Durable
The Smartwhip Silver Full Set is not only efficient but also easy to use. Its handy design ensures a comfortable grip and effortless operation. Whether you are a professional chef or a passionate home cook, you will appreciate the durability and reliability of this set.
Enhanced Control over Texture
Creating the perfect texture is essential in many dishes, and the Smartwhip Silver Full Set gives you the ultimate control. By using nitrous oxide, you can achieve the precise consistency you desire. From light and airy mousses to creamy sauces, let your imagination run wild and craft culinary wonders.
Environmentally Friendly Disposal
We care about the environment, and that's why the Smartwhip Silver Full Set includes a pressure release nozzle. With this feature, you can fully release the gas from the cylinder for easy and environmentally friendly disposal. Enjoy your creations with peace of mind, knowing you are minimizing your impact on the planet.
Compatible and Versatile
Connect the Smartwhip Silver Full Set with any cream dispenser using the included Smartwhip Adapter. The pressure regulator ensures a seamless connection, allowing you to use this versatile set with various tools in your kitchen. Experience the freedom to experiment and explore new culinary horizons.
Don't settle for mediocrity in the kitchen. Upgrade to the Smartwhip Silver Full Set and unlock your true culinary potential. With its impressive capabilities, improved workflow efficiency, and enhanced control over texture, this set is a must-have for any aspiring chef or seasoned professional. Elevate your dishes to new heights and amaze your guests with the help of Smartwhip.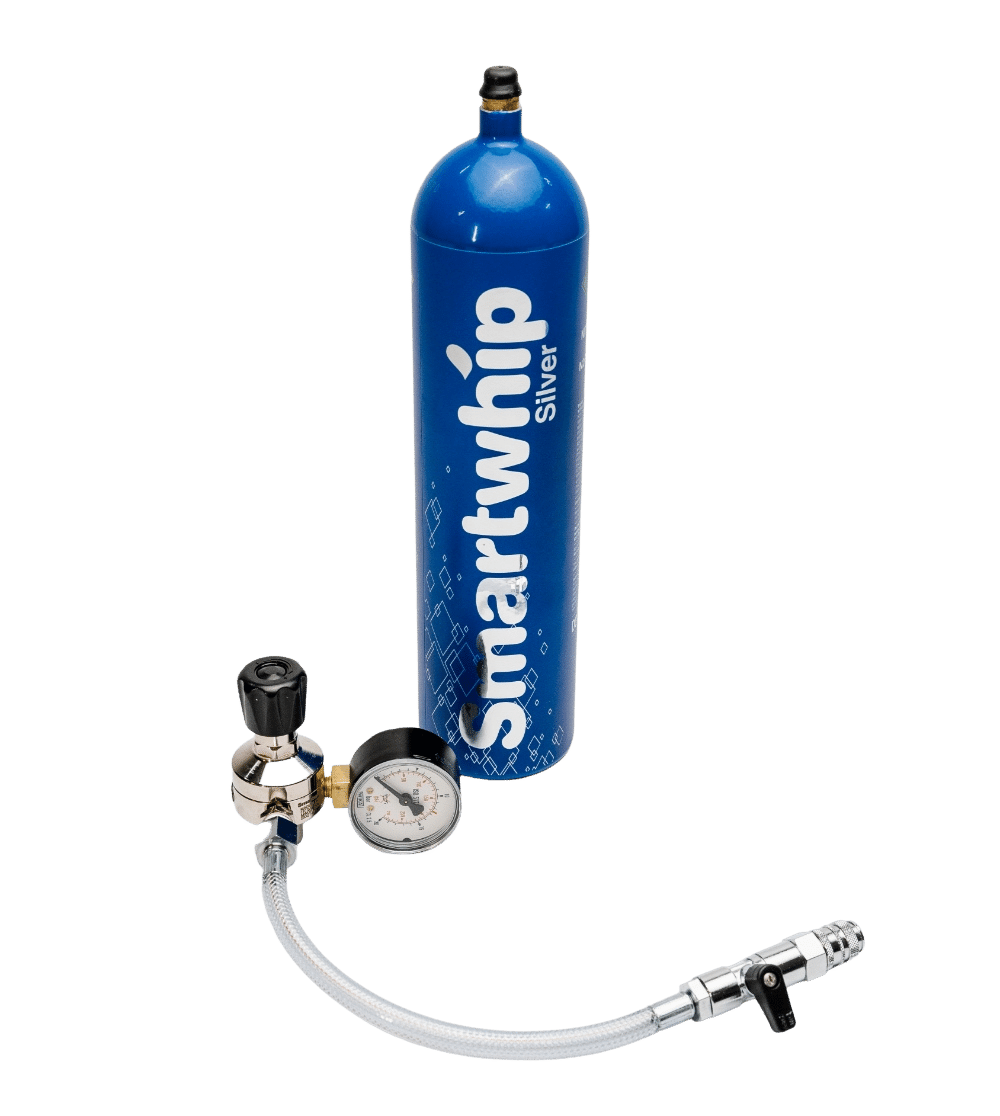 Smartwhip Silver Full Set (N2O Cylinder 640g & Pressure Regulator) | Smartwhip