Product Information
A salt crystal remedy for daily relaxation and positivity, this beautiful oil and wax burner combines all of the benefits of Himalayan rock salt with scented oils and waxes. Carved into a wonderful lotus flower design, simply pop a tea light in the centre and add a few drops of your favourite oil or your favourite wax melts on the glass plate top to welcome a soothing aroma into any room of your home.
Himalayan salt, formed over hundreds of millions of years and mined over 800 feet under the foothills of the Himalayas, has many claimed health benefits for day-to-day life. Did you know it continually releases negative ions, commonly found in open spaces such as mountains and beaches, to neutralize the air by reacting with positive ions released by all of our tech and devices? Those negative ions can leave you feeling refreshed and energetic, potentially boost your mood, and even help you with getting a good night's sleep. It is also reported that the salt attracts water vapours which often carry allergens, bacteria and mould through the air, acting like a filter for the air, meaning your candle holder will produce cleansed air in your living space to breathe day and night.
What are the reported Health Benefits of Himalayan Salt?
Humidity attracting abilities to cleanse the air of allergens.
Releases negative ions which help neutralise the air.
Leaves you feeling refreshed and soothed.
Helps you sleep and improves your mood.
Aids in boosting energy levels.
Does your candle holder look wet? Don't worry! Its hygroscopic abilities will draw water vapours to it, which can sometimes make the salt look damp. Simply light your tea light and the warmth will have it dry in no time.
Never leave a candle/oil burner unattended or in reach of children or pets, or leave it lit on anything that could catch fire. To clean your candle holder, just give it a wipe with a damp cloth.
Dimensions
rock salt holder – width 10cm x height 11cm x depth 10cm
plate – width 11.5cm x height 3cm x depth 11.5cm
Made from
himalayan rock salt, glass
Product code
45731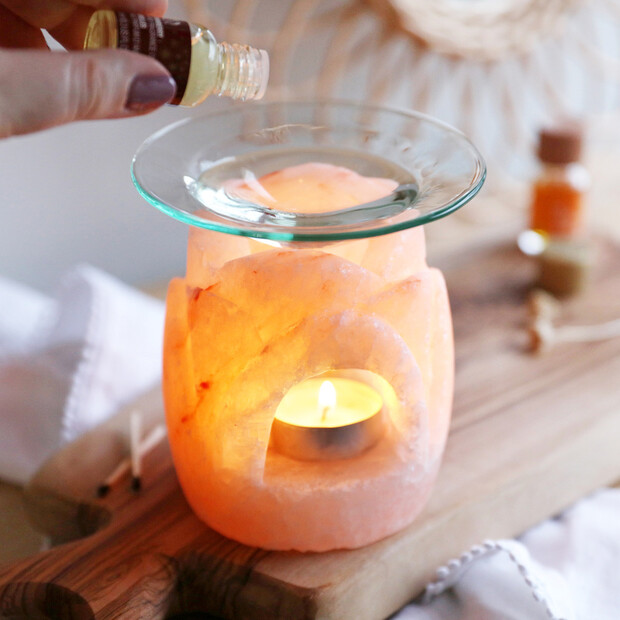 Lotus Flower Himalayan Rock Salt Oil Burner