The Ruby Anniversary – Floribunda is a stunning rose variety that is sure to add a touch of elegance and sophistication to any garden or flowerbed. With its vibrant crimson red color, it immediately catches the eye and brings a burst of color to its surroundings. The double blooms are beautifully shaped, with layers of petals creating a rich and full appearance.
Not only does the Ruby Anniversary impress with its visual appeal, but it also offers a mild, pleasant scent that lingers in the air. This adds another layer of sensory delight to your garden, making it a joy to spend time in and experience the fragrance of this magnificent rose.
What sets the Ruby Anniversary apart from other rose varieties is its exceptional flowering period. It boasts a repeat blooming cycle that begins in June and continues all the way through September. This means that you can enjoy the beauty and vibrant colors of this rose for an extended period of time, creating a continuous display of nature's beauty in your outdoor space.
As a member of the Floribunda group, the Ruby Anniversary – Floribunda rose is compact and reaches a height of approximately 60cm. This makes it an ideal choice for smaller gardens or for planting in containers. It is a versatile plant that can be easily incorporated into any garden design or landscape, bringing beauty and grace to any space.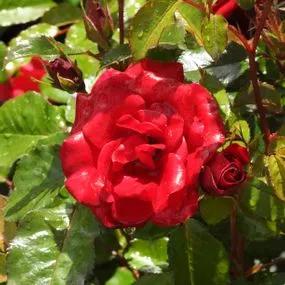 Ruby Anniversary – Floribunda