Introducing our new and improved Double Dog Kennel With Run! This spacious and sturdy kennel is perfect for pet owners who want to provide a comfortable and secure outdoor space for their furry friends.
Our double dog kennel is designed with two separate compartments, allowing you to accommodate multiple dogs or keep your furry pals separate when needed. Each compartment has a spacious interior, ensuring that your dogs have plenty of room to move around and stretch their legs.
But that's not all – this double dog kennel also comes with a 6ft run! The run provides an additional outdoor space for your pets to play and exercise. It allows them to enjoy the fresh air while staying safely within the confines of the kennel. It's the perfect solution for pet owners who want to give their dogs a taste of the outdoors without the worry of them running off.
We understand that not all pet owners have the same space requirements for their dogs. That's why we offer the option to customize the size of the run. If you prefer a larger run, simply select this option in the drop-down box provided. We want to ensure that our double dog kennel meets your specific needs and provides the ideal environment for your beloved pets.
In addition to its practicality, our double dog kennel is also aesthetically pleasing. It is expertly crafted using high-quality materials and boasts a stylish design that will complement any outdoor space. The kennel is built to last, with durable construction and weather-resistant features, ensuring that it can withstand even the harshest of conditions.
So why wait? Treat your dogs to the comfort, security, and freedom they deserve with our Double Dog Kennel With Run. Give them a safe and enjoyable outdoor space to call their own, and watch as they thrive in their new environment.
Order your double dog kennel today and give your furry friends the gift of a lifetime!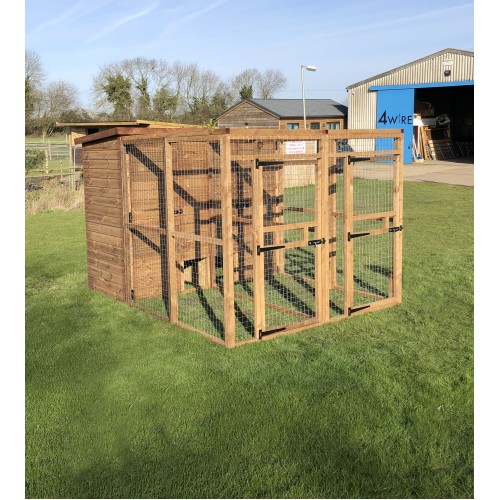 Double Dog Kennel With Run